You cannot add "Huawei E5576-320 150 Mbps 3G/4G Dual-Band Pocket Router (White)#SS5007C" to the cart because the product is out of stock.
Asus Lyra Trio AC1750 Mbps Gigabit Dual-Band Wi-Fi System (2-Pack)#SS5095C
Let's check the overview
Brand – Asus
Model – Asus Lyra Trio 2 Pack AiMesh
Router Type – Wireless & Ethernet
LAN Network Standard – 10/100/1000
WAN Newtork Standard – 10/100/1000
Data Transfer Rates (WiFi) – 1750 Mbps (450 + 1300)
Data Transfer Rate (Lan) – 1000 Mbps
About This Product
Asus Lyra Trio 2 Pack AiMesh
AC1750 Dual Band Mesh WiFi System – Covers Multi-Story Homes up to 5400 sq. ft., with AiMesh support, AiProtection network security powered by Trend Micro
Banish WiFi Dead Zone — Dual band, tri-hub mesh wifi system with unique antenna placement delivers strong WiFi to every corner of your home.
Fast & Smooth Connections, Always — 3×3 MIMO technology and seamless roaming deliver superior WiFi speed and automatically connect you to the best signal, anywhere in the home.
Always Up-to-date Protection — The lifetime free cloud-based security powered by Trend Micro™ makes sure your privacy on connected devices is protected.
Parental Controls — URL filter and scheduling allow you to protect your family from inappropriate content and unhealthy Internet usage behavior.
AiMesh Supported – Mix and match Lyra Trio with AiMesh-compatible routers to form powerful and flexible whole-home WiFi system
Lyra Trio – Corner to Corner WiFi
Smooth and Safe Connection to More
Every day, you text, chat online and connect with loved ones. You explore, and connect with your passions, your inspirations, and exciting new experiences. Lyra Trio connects you to more possibilities, while protecting your privacy along the way. Always stay connected to the people and things that matter most to you, with fast, simple and secure WiFi in every corner of your home.
Covers Multi-Story Homes up to 5400 sq. ft.
Whether you're in the basement, the garden or the living room, you want all your WiFi devices to work smoothly. The ASUS Lyra Trio mesh WiFi system uses multiple wirelessly connected hubs to deliver a superfast, reliable and secure signal to every corner of your home.
Powerful Whole-home WiFi System. The Way You Want.
In most cases, your Lyra Trio can deliver smooth, reliable WiFi to every part of your home. But WiFi coverage can be affected by many factors — room layout, construction materials, and even furnishings. ASUS AiMesh is an innovative new router feature that fixes these problems: it creates a whole-home WiFi network using multiple ASUS routers. AiMesh is powerful, flexible and you can use a mix of ASUS router models — protecting your investment!
Learn More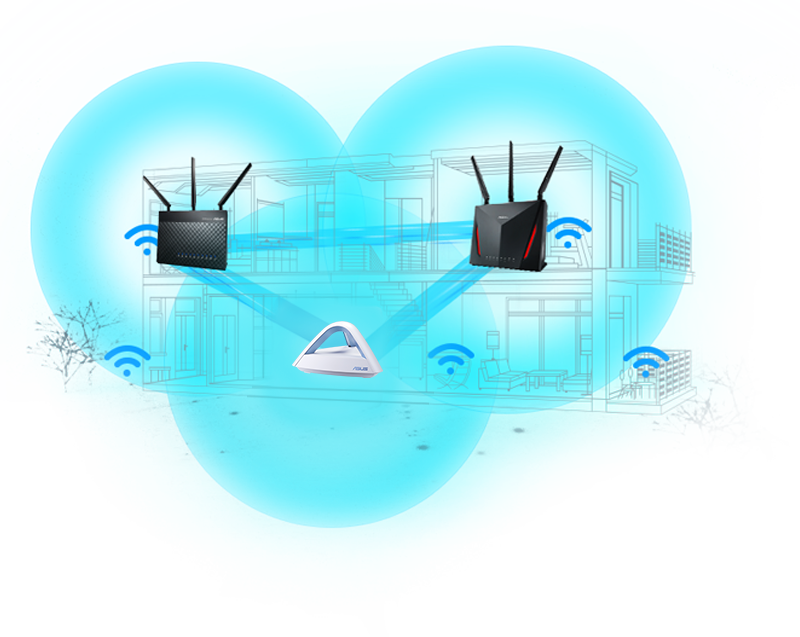 Mix and match Lyra Trio with AiMesh-compatible routers to form a whole-home WiFi system with simple firmware update.
Create a network with either a single WiFi name or multiple WiFi names
All router features works across the entire WiFi system
* Upgraded seamless roaming technology firmware for Lyra Trio will be ready in early 2019.
Automatically Connect to the Strongest Signal
The multiple hubs of Lyra Trio work together to form a single network with one WiFi name. Once you're on the network, Lyra Trio automatically connects you to the hub with the best signal and seamlessly switches hubs as you move around your home. It's so smooth, you won't even notice it — even if you're video chatting or streaming video.
More Lane, More Traffic
Lyra Trio has a 3×3 MIMO antenna design that provides an additional spatial stream compared to 2×2 mesh WiFi systems, meaning it can handle more simultaneous network traffic for fast, reliable performance even when many devices are connected to the network. The individual Lyra Trio hubs also connect to each other using three lanes, maximizing data speeds as data hops from hub to hub, ensuring you get the best WiFi performance in every corner of your home.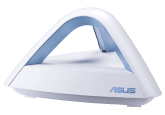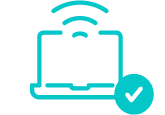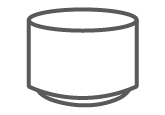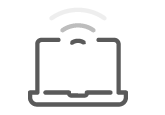 Antennas Designed to Transmit Across Floors
Lyra Trio has a unique pyramid antenna design that minimizes interference and transmits the WiFi signal vertically as well as horizontally for better reception and performance in multi-story homes.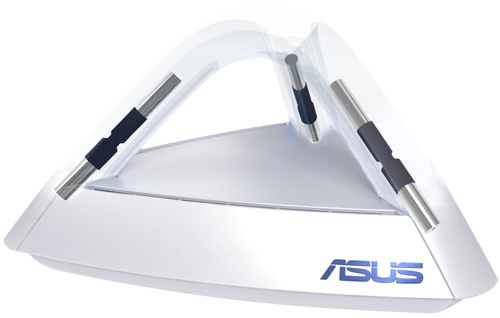 Faster WiFi Speed That Goes Farther
5GHz Data Rate
Lyra Trio

1300 Mbps

Other AC1200 Mesh WiFi system
867 Mbps

UP TO  FASTER

Based on experiment tested in ASUS simulated environment
AiProtection Classic
Always Up-to-date Protection for Your Family
Every day, you rely on connected devices to manage and access your personal data, but you may not know if your privacy has been secretly compromised. The advanced cloud-based security powered by Trend Micro™ built in to Lyra Trio makes sure your privacy is always protected on all connected devices, even smart home (IoT) appliances.
Malicious Site BlockingLyra Trio uses Trend Micro's official database to identify and block known malicious sites, preventing infection even before you click.
Infected Device Detection and BlockingEven if an already-infected device is connected to Lyra Trio, the personal data on the device is secured from being compromised.
Free Lifetime SubscriptionSome routers come with additional fees for security coverage or provide free protection for a limited period only, but Lyra Trio has you covered for the life of the product.
Parental ControlsURL filter and scheduling allow you to protect your family from inappropriate content and unhealthy Internet usage behavior.
24/7 Auto UpdateLyra Trio keeps your network running securely with automatic firmware updates and is always in sync with Trend Micro's cloud database, so you can always enjoy the best Internet experience.
Protected ConnectionsWith WPA2 encryption and TLS protocols, device connections to Lyra Trio and the Internet are both private and secure.
More Stable WiFi with Wired Connections between Lyra Trio Hubs
Lyra Trio supports Ethernet backhaul, which means you can use network cables to connect multiple hubs together. If you have on-wall Ethernet ports in different rooms of your home, this feature lets your routers communicate with one another over a wired connection, making your WiFi system even more stable and reliable. It also reserves the entire 2.4GHz and 5GHz band for your wireless devices, letting you enjoy smoother and faster connections.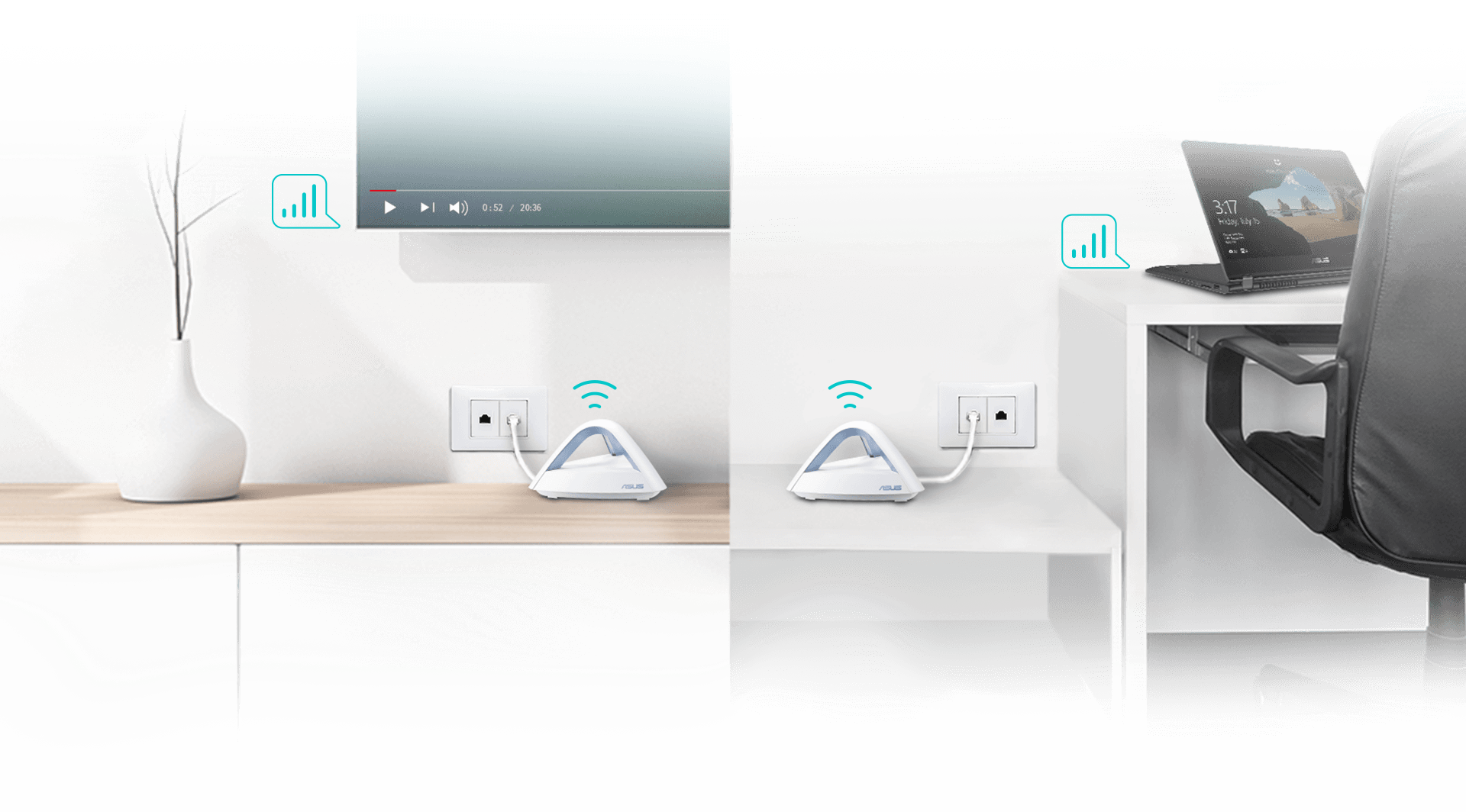 How Many Lyra Trio Hub Do I Need?
Lyra Trio uses multiple hubs to make it supremely flexible for any environment: no matter what size or shape your home is, Lyra Trio gives you all the coverage you need!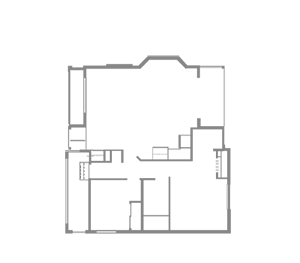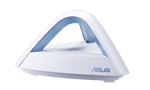 1-pack Lyra Trio hub Small Home  1800* sq. ft.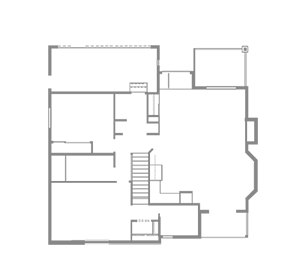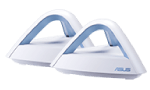 2-pack Lyra Trio Hubs Medium Home 1800 – 3600* sq. ft.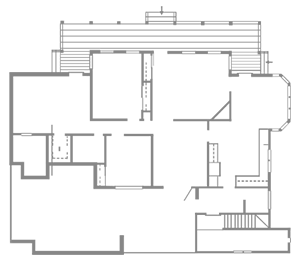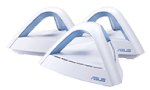 3-pack Lyra Trio Hubs Large Home or Multi-story Home 3600 – 5400* sq. ft.
Brand – Asus, Model – Asus Lyra Trio 2 Pack AiMesh, Router Type – Wireless & Ethernet, WiFi Network Standards – IEEE 802.11b,g,n,a,ac, LAN Network Standard – 10/100/1000, WAN Newtork Standard – 10/100/1000, Data Transfer Rates (WiFi) – 1750 Mbps (450 + 1300), Data Transfer Rate (Lan) – 1000 Mbps, Interface – 1 x WAN, 1 x LAN, Number of WAN Port – 1, Number of LAN Port – 1, USB Interface – No, USB Interface Application – No, Antena (Type & Qty) – 3 x 2dBi Internal antenna, Operating Frequency – 2.4 GHz, 5 GHz, Security Protocols – WPA2-PSK, Band – Dual, RAM – 128 MB, Storage – 32 MB, OS – Windows 7, 8, 8.1, 10, Mac OS, Linux, WiFi Coverage (Approximate) – Up to 3600 sq. ft., Number of Concurrent User – Up to 30-45 User connections (15-23 in 2.4GHz & 15-23 in 5GHz), 3G/4G – No, Mesh Technology – Yes, MIMO Technology – Yes, VPN Support – Yes/ IPSec, PPTP, L2TP Pass-Through, OpenVPN server, Built in Antivirus – Yes, Best For – Large home, Print Compatible – No, Button – Reset, Pair Button, Dimension( Wx Dx H mm) – 135.1 x 123.2 x 77.9 mm, Features – Data Rate- 1750 Mbps, Antenna- 3 x 2dBi Internal, Open Space Coverage- 3600 sq.ft, User- 30-45 (15-23 in each band: 2.4GHz and 5 GHz), Banish WiFi Dead Zone (Dead zone killer), Always Up-to-date Protection (Built in antivirus), Parental Controls, Automatically Connect to the Strongest Signal, 3×3 MIMO – More Lane, More Traffic, Antennas Designed to Transmit Across Floors, More Stable WiFi with Wired Connections between Lyra Trio Hubs, ASUS Lyra App – easy way to control by mobile phone, Get Ready for a Smarter Home – Works with Amazon Alexa, Speciality – Parental Control, Smart Connect, Traditional QoS, AiProtection Classic, Bandwidth Limiter, AC1750 Dual Band Mesh WiFi System, with AiMesh support, AiProtection network security powered by Trend Micro, Banish WiFi Dead Zone – Dual band, tri-hub mesh wifi system with unique antenna placement delivers strong WiFi to every corner of home, Fast & Smooth Connections, Always – 3×3 MIMO technology and seamless roaming deliver superior WiFi speed and automatically connect to the best signal, anywhere in the home, Always Up-to-date Protection – The lifetime free cloud-based security powered by Trend Micro makes sure privacy on connected devices is protected, Parental Controls – URL filter and scheduling allow to protect family from inappropriate content and unhealthy Internet usage behavior, AiMesh Supported – Mix and match Lyra Trio with AiMesh-compatible routers to form powerful and flexible whole-home WiFi system, Smooth and Safe Connection to More, Others – AC1750 superior AC performance: 450+1300 Mbps, Coverage: Large homes, MIMO technology: 2.4 GHz 3 x 3, 5 GHz 3 x 3, Memory: 32MB (Flash), 128MB (RAM), Operating Frequency: 2.4 GHz / 5 GHz, Management: DHCP, DDNS, Port Forwarding, System Event Log, Internet connection type: Automatic IP, Static IP, PPPoE(MPPE supported), PPTP, L2TP, Button: Reset Button, Pair Button, OS Supported: Windows 7, 8, 8.1, 10, Mac OS X 10.1 to 10.12, Linux, Dimensions: 135.1 x 123.2 x 77.9mm (Without Bezel), Warranty – 2 years, Country of Origin – Taiwan, Made in/ Assemble – China
SPECIFICATIONS
Key Features
Data Rate
802.11a : 6,9,12,18,24,36,48,54 Mbps
802.11b : 1, 2, 5.5, 11 Mbps
802.11g : 6,9,12,18,24,36,48,54 Mbps
802.11n : up to 450 Mbps
802.11ac : up to 1300 Mbps
Antenna
Internal antenna x 3
Button
Reset Button, Pair Button
Frequency
2.4 GHz / 5 GHz
Network Standard
IEEE 802.11a, IEEE 802.11b, IEEE 802.11g, IEEE 802.11n, IEEE 802.11ac
Encryption
WPA2-PSK
Ports
RJ45 for Gigabits BaseT for WAN x 1
RJ45 for Gigabits BaseT for LAN x 1
Others
Memory:
32MB Flash
128MB RAM
Features:
Smart Connect
Traditional QoS
AiProtection Classic
Parental Control
Guest Network : 1
VPN server :
IPSec Pass-Through, PPTP Pass-Through, L2TP Pass-Through, OpenVPN Server
VPN client : PPTP client, L2TP client, OpenVPN client
VPN Pass-Though :IPSec, PPTP, L2TP
Bandwidth Limiter
Operating System Support
Windows 10
Windows 10 64-bit
Windows 8.1
Windows 8
Windows 7
Mac OS X 10.1 to 10.12
Linux
Power Source
Power Mode
AC Input:100-240V~ 50/60Hz 0.6A
DC Output : 12V with max. 1.5A current
Physical Dimension
Dimension
135.1 x 123.2 x 77.9 ~ mm (WxDxH) (Without Bezel)
Manufacturer warranty
Warranty
02 years replacement warranty