Asus ROG Claymore MA01 RGB (Red Switch) Mechanical Gaming Keyboard
Quick Overview
Model – Asus ROG Claymore MA01 RGB
Type – Mechanical Gaming Keyboard
Interface – Wired, USB 2.0
About This Product
ROG Claymore
World's first RGB mechanical gaming keyboard with a detachable numpad, Aura Sync and Cherry MX RGB switches
Individually-backlit keys with Aura Sync RGB LED technology for unlimited personalization options
Fully programmable keys with on the fly macro recording
100% anti-ghosting with N-key rollover (NKRO) technology
Hotkeys for fan speed, lighting and overclocking controls when paired with an ASUS ROG motherboard
Onboard memory to save profiles on the go and intuitive ROG Armoury for lighting, key, and stats settings
Durable aluminum construction with intricate Mayan-inspired detailing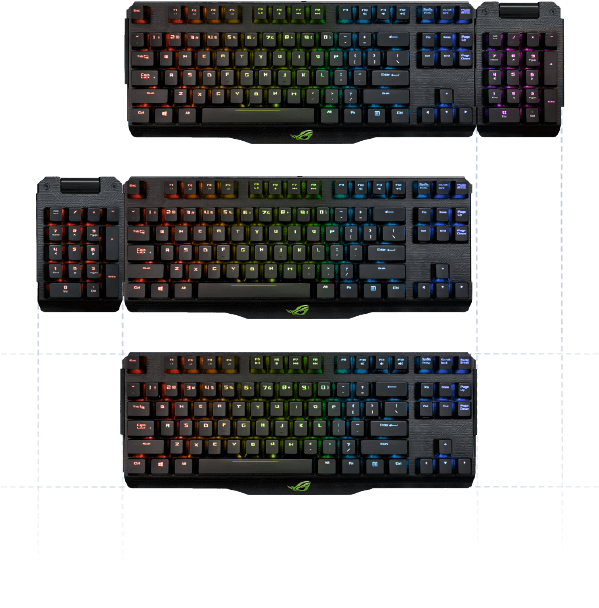 Play It Your Way
ROG Claymore's detachable keypad* can double as a macro keypad during gaming. This unique feature lets you use your mouse with your dominant hand, with macros at your other hand's fingertips.
*Detachable keypad cannot be used independently. It must be connected to either side of the main keyboard.
ASUS Aura – Let There Be Light
Fire up Aura and enjoy a mesmerizing light show on ROG Claymore's individually-customizable backlit keys, and get creative with its palette of over 16 million colors. You'll also be able to sync your customized light effect with the ever-growing range of Aura-enabled gear.
Every Keystroke Counts
ROG Claymore features Cherry MX RGB switches, 100% anti-ghosting with N-Key rollover (NKRO) technology, fully programmable keys and on the fly macro key recording to ensure you always get the winning edge.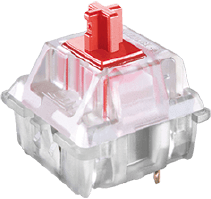 Cherry MX RGB Switches
German-made Cherry MX RGB switches (Red, Blue, Brown and Black) give you tactile, responsive keystrokes and unmatched 50-million-keystroke durability.
Anti-Ghosting With N-Key Rollover
ROG Claymore features 100% anti-ghosting with N-Key rollover (NKRO) technology to ensure each keystroke is detected no matter how many other keys are pressed — so all your multi-keystroke commands are logged.
Repeat Acceleration
Repeat acceleration is the rate at which a letter repeats itself when you hold a key down. You can adjust the repeat rate to suit the situation at hand — keep it at the default rate for typing, or increase it for some rapid-fire action.
Model – Asus ROG Claymore MA01 RGB, Series – Gaming Keyboard, Style & Size – Regular Big, Type – Mechanical Gaming Keyboard, Interface – Wired, USB 2.0, Language (English) – Yes, Language – English, Lighting – Yes, Mechanical (Key) – Yes, Mouse, Touchpad – Keyboard only, Dimensions (WxHxD) – 450 x 140 x 45mm, Weight – 943gm, Specialty – Individually-backlit keys with Aura Sync RGB LED technology for unlimited personalization options, Fully programmable keys with on the fly macro recording, 100% anti-ghosting with N-key rollover (NKRO) technology, Hotkeys for fan speed, lighting and overclocking controls when paired with an ASUS ROG motherboard, Onboard memory to save profiles on the go and intuitive ROG Armoury for lighting, key, and stats settings, Durable aluminum construction with intricate Mayan-inspired detailing, Overclocking & Booting-up Hot Keys (ROG KeyBot II S5 mode)Boot-up: Long press on ENTER, Others – Red Switch, Profile switch: Fn + 1/ 2 / 3/ 4/ 5/ 6: Profile 1 – 6 (6 is default profile), Lighting effects switch: Fn + Right or Fn + Left, Brightness level: Fn + Up: Brightness up (5 levels), Fn + Down: Brightness down (5 levels), Color customization: Fn + Delete: Red increase (10 levels), Fn + End: Green increase (10 levels), Fn + PageDown: Blue increase (10 levels), ROG SYNC (sync Aura lighting effects between Claymore and Aura-enabled mouse): Fn + PrintScreen, Only available when Armoury software is activated., Synchronization will take about 10 seconds, Motherboard fan speed control: Fn + "+" or Fn + "-" Only available when Fan Xpert software and Armoury software are activated, On-the-fly macro recording:, Step 1: Fn + Right-ALT to start recording, Step 2: Fn + Right-ALT to end recording, Step 3: assign Macro Key, Windows key lock: Fn + Windows key Not available under Armoury software Claymore lighting page, Repeat acceleration: Fn + F1: 1X, Fn + F2: 2X, Fn + F3: 3X, Fn + F4: 4X, Warranty – 1 Year
SPECIFICATIONS
General
Model
Asus ROG Claymore MA01 RGB
Type
Mechanical Gaming Keyboard
Physical Description
Dimensions
450 x 140 x 45mm
Technical Information
Mouse, Touchpad
Keyboard only
Additional Info
Specialty
Individually-backlit keys with Aura Sync RGB LED technology for unlimited personalization options, Fully programmable keys with on the fly macro recording, 100% anti-ghosting with N-key rollover (NKRO) technology, Hotkeys for fan speed, lighting and overclocking controls when paired with an ASUS ROG motherboard, Onboard memory to save profiles on the go and intuitive ROG Armoury for lighting, key, and stats settings, Durable aluminum construction with intricate Mayan-inspired detailing, Overclocking & Booting-up Hot Keys (ROG KeyBot II S5 mode)Boot-up: Long press on ENTER
Others
Red Switch, Profile switch: Fn + 1/ 2 / 3/ 4/ 5/ 6: Profile 1 – 6 (6 is default profile), Lighting effects switch: Fn + Right or Fn + Left, Brightness level: Fn + Up: Brightness up (5 levels), Fn + Down: Brightness down (5 levels), Color customization: Fn + Delete: Red increase (10 levels), Fn + End: Green increase (10 levels), Fn + PageDown: Blue increase (10 levels), ROG SYNC (sync Aura lighting effects between Claymore and Aura-enabled mouse): Fn + PrintScreen, Only available when Armoury software is activated., Synchronization will take about 10 seconds, Motherboard fan speed control: Fn + "+" or Fn + "-" Only available when Fan Xpert software and Armoury software are activated, On-the-fly macro recording:, Step 1: Fn + Right-ALT to start recording, Step 2: Fn + Right-ALT to end recording, Step 3: assign Macro Key, Windows key lock: Fn + Windows key Not available under Armoury software Claymore lighting page, Repeat acceleration: Fn + F1: 1X, Fn + F2: 2X, Fn + F3: 3X, Fn + F4: 4X