Asus SD434-YB 43 Inch Plug N Play Digital Signage/Commercial Display #SS6253C
Let's check the overview
Model – Asus SD434-YB
Shape – Widescreen
Display Size (Inch) – 43 Inch
Display Resolution – 1920 x 1080
Contrast Ratio – 3000:1
Adaptive-Sync Technology – No
Vertical Viewing Angle – 178 degree
About This Product
43" Plug 'N' Play Commercial Display
178° wide-view angle panel for bright and colorful Full HD visuals
Built-in media player supports a variety of commonly-used media formats. Plug-and-play through an USB drive.
RS-232 port allows you to manage multiple signage installations through a linked connection.
Clear audio through built-in 10-watts stereo speakers
Seamless Vision for Impactful Messaging
ASUS SD434-YB Commercial Displays feature a built-in multimedia player that supports a variety of commonly used media file formats. The SD434-YB supports up to Full HD 1920 x 1080 content and features a 3,000:1 high contrast ratio, 178-degree wide-view angle panel that provides stunning images even when viewed from extreme angles.
SD434-YB features brightness of 350 cd/m², making them ideal for indoor wall-mounted, shelved, or end-cap installations. The SD434-YB also has built-in speakers that provide clear audio to accompany the visuals. With everything housed in a single unit, the SD434-YBs ' all-in-one design makes it ideal for small businesses. It is a cost-effective solution that is easy to set up too, giving users a high return on investment.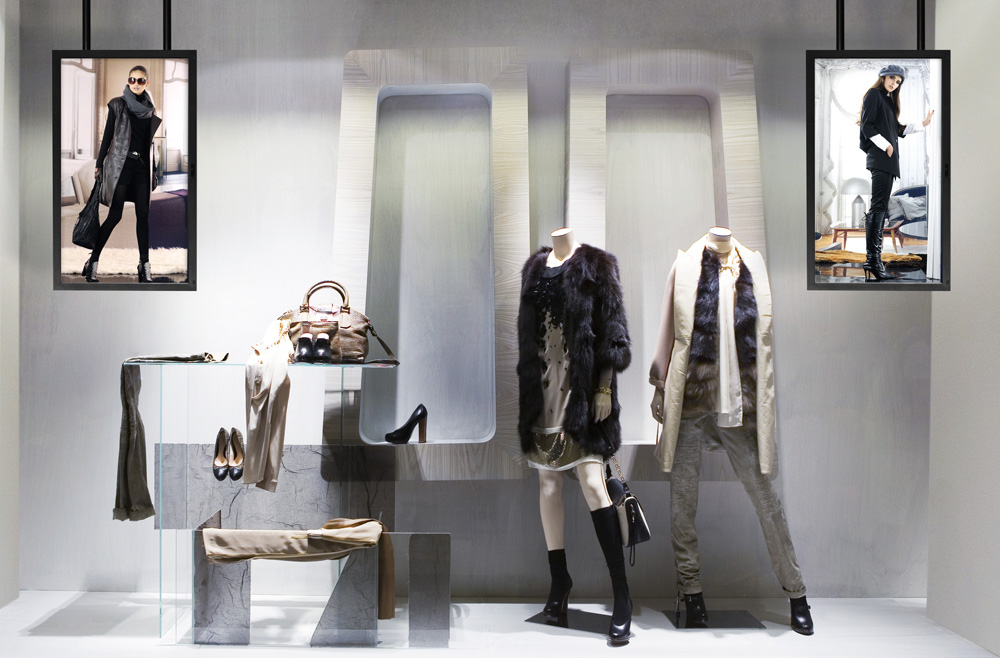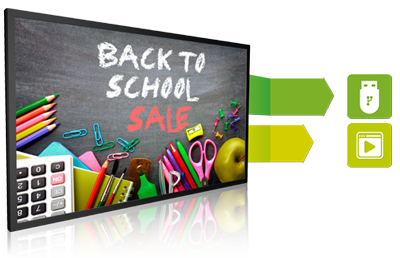 Plug 'N' Play capabilities with diverse multimedia format support
SD434-YB can play files from a USB drive. It supports various video, audio, and image file formats to give users more options when it comes to creating display materials.
Multimedia format supported
Video: AVI, MP4, MOV, MPG/MPEG
Audio: MP3, WMA, M4A, AAC, AC3
Picture: JPEG, BMP, GIF
Remote Network Control
A RS-232 port lets you manage multiple signage installations through a linked connection. You can monitor and control all displays in the control room. Hassle-free!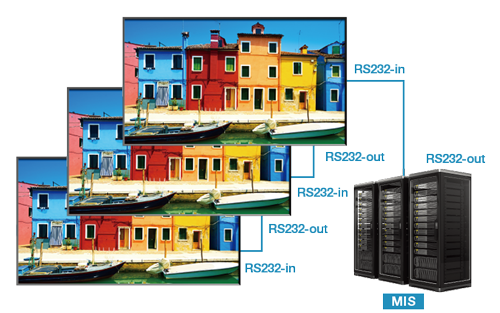 Vivid Visuals Even from Extreme Angles
SD434-YB features a wide 178° viewing angle panel that eliminates color shift even when viewed from extreme horizontal or vertical angles. This means your audience experiences no image distortion or degradation even when they're viewing the screen from different angles. For added placement flexibility, SD434-YB can be used in a portrait or landscape orientation.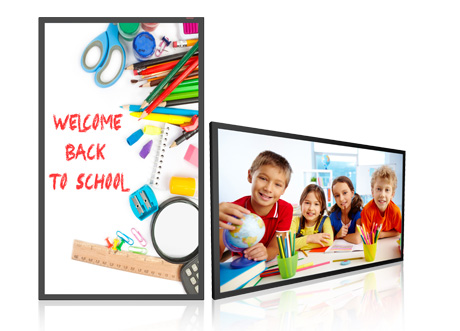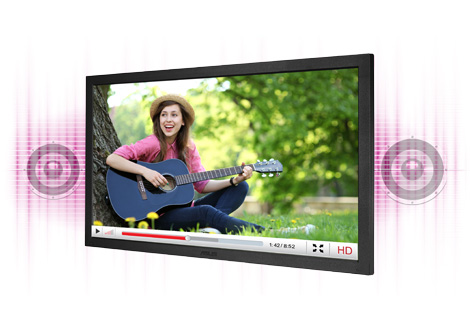 Powerful Built-in Speakers
Built-in twin 10W speakers provide high-quality audio to accompany what's onscreen. These rear-mounted speakers help maintain SD434-YB's slim profile and eliminate the need for external speakers.
Model – Asus SD434-YB, Shape – Widescreen, Display Size (Inch) – 43 Inch, Display Type – FHD Digital Signage/Commercial Display, Touch Screen – No, Display Resolution – 1920 x 1080, Maximum Brightness (cd/m2) – 350cd/m2, Contrast Ratio – 3000:1, Refresh Rate (Hz) – 60Hz, Adaptive-Sync Technology – No, Horizontal Viewing Angle – 178 degree, Vertical Viewing Angle – 178 degree, DVI Port – 1, VGA Port – 1, HDMI Port – 1, DisplayPort (DP) – No, Mini DisplayPort – No, USB – 1 x USB2.0, Thunderbolt – No, Headphone Jack – 3.5mm Mini-Jack, Speaker (Built-in) – 10Watt x 2, Power Consumption – 132 W, VESA Wall Mount Standard – 400 x 400 mm, Body Color – Black, Weight – 8.7Kg, Dimensions – 968.2 x 559.4 x 59.9mm, Specialty – 43 Inch Plug N Play Digital Signage/Commercial Display, RCA, D-Sub (RGB), DVI-D, HDMI, 3.5mm Jack, Built-in Speaker, USB, Media Player, RJ45, RS232 in/out, IR Remote, Wall Mount, 178degree wide-view angle panel for bright and colorful Full HD visuals, Built-in media player supports a variety of commonly-used media formats, Plug-and-play through an USB drive, RS-232 port allows to manage multiple signage installations through a linked connection, Clear audio through built-in 10-watts stereo speakers, Seamless Vision for Impactful Messaging, Remote Network Control, Vivid Visuals Even from Extreme Angles, Commercial Display Monitor, Others – Category: Regular Signage, Instant Signage, Active Area (X-Length x Y-Length): 940.9 x 529.25 mm, Component : RCA x 1 Set, CVBS : via Component-Y x 1, Audio Input: 3.5mm jack x 1 (Stereo), RCA x 1 pair (Separate Channel), Audio Output: RCA x 1 pair (Separate Channel), Network Controller: RJ45, Serial Bus Controller: RS232 in/out, Wireless Controller : IR remote, Multimedia Formats Supported: AVI, MP4, MOV, MPG/MPEG (Video), MP3, WMA, M4A, AAC, AC3 (Audio), JPEG, BMP, GIF (Picture), Features: Built-in Media Player, RS232, RJ45, Power Consumption: 132W (with Audio full output) Operating (max.), 0.5W Stand-by (max.), Wall Mounting: 400 x 400mm, Weight: 8.7Kg, USP: Plug N Play capabilities with diverse multimedia format support with IR remote Controller, Key Feature: 43 inch, Full HD, 60 Hz, D-Sub (RGB), DVI-D, HDMI, USB Ports, Built-in speakers, Wall Mounting, Part No – SD434-YB, Warranty – 3 year, Country of Origin – Taiwan, Made in/ Assemble – China
SPECIFICATIONS
Display Features
Screen Size
43″
Display Type
Commercial Display
Resolution
1920×1080
Brightness
350 cd/㎡
Viewing Angle
178°(H)/178°(V)
Contrast Ratio
3000:1
Color Support
Black
Connectivity
HDMI
HDMI x 1
USB Port(s)
2.0×1
Audio Jack
Audio Input: Stereo : 3.5mm jack x 1, Separate Channel : RCA x 1 pair
Audio Output: Built-in speakers : 10W x 2, Separate Channel : RCA x 1 pair
DVI
DVI-D x 1
Power
Type
Operating (max.): 132W (with Audio full output)
Others
Stand-by (max.): 0.5W
Physical Specification
Dimension
Dimension: 968.2×559.4×59.9 mm
Frame Width: Top/Left/Right bezel: 11.9 mm; Bottom: 14.9 mm
Weight
8.7 Kg
Warranty Information
Manufacturing Warranty
03 years Replacement Warranty