Netgear ReadyNAS RR230400 4 BAY Rackmount Storage (Upto 40TB Storage Support, Intel Celeron Dual Core 2.0 GHz Processor, 2GB RAM, Supports SATA/SSD 2.5 or 3.5 Disk, 2xGigabit Lan)#SS5287C
Let's check the overview
Model – Netgear ReadyNAS RR230400
RAM – 2GB
Processor – Intel Celeron Dual Core 2.0 GHz Processor
Drive Type – SATA/SSD 2.5 inch or 3.5 inch
Bays Qty – 4 BAY
Max Capacity – 40TB
About This Product
Netgear ReadyNAS RR230400 4 BAY Rackmount Storage
Industry's First 1U 12-bay High Density Network Storage Solution
ReadyNAS, a comprehensive storage and backup solution
Your data. Your business. Protected.
Intuitive remote management & monitoring
Cloud backup (Amazon, Google Drive, Dropbox, OneDrive, Azure)
Choice of storage capacity & hardware (from 2 to 60 bays, desktop or rackmount)
Team collaboration with anywhere secure access
High-performance large file storage & streaming
Business continuity with all-inclusive backup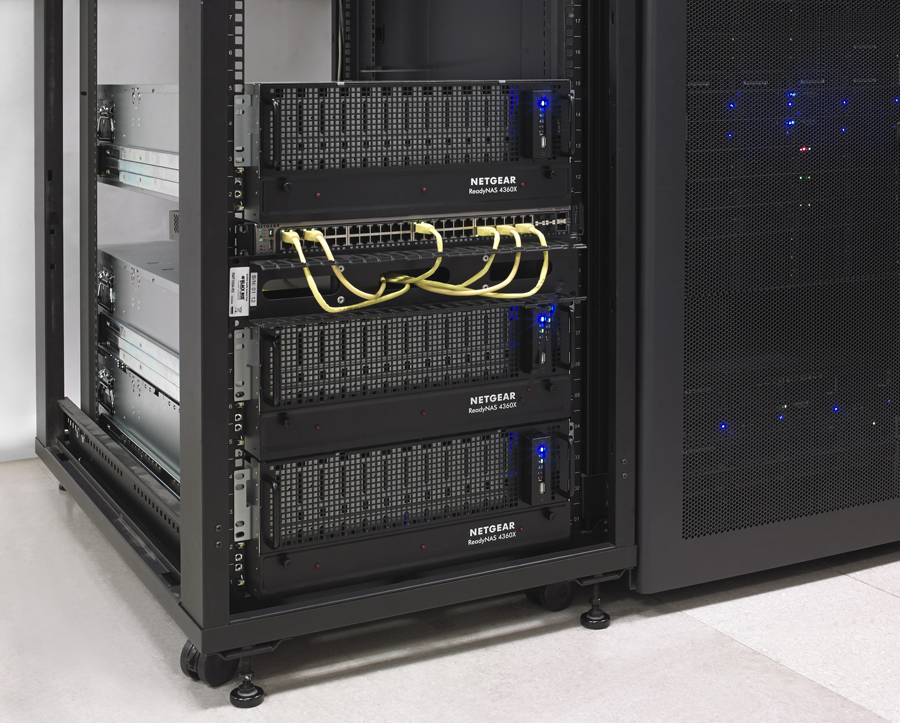 High Density Network Storage Solution for SMBs
NETGEAR introduces ReadyNAS 2312, the industry's first 12-bay network attached storage solution in a 1U form factor, a design that represents the highest storage density on the storage market.  ReadyNAS 2312 is ideal for data backup and IP based surveillance video management, recording and storage.
For even higher-density deployments, you can also consider ReadyNAS 4360X. It offers unmatched performance, capacity and reliability storage solution to the SMB with 60 Bays in just 4U!
ReadyNAS: Your best backup plan against ransomware
Ransomware is about using a stolen user credential to encrypt data, ask for money in exchange of a decryption key so the owner of the data can recover the data
ReadyNAS Snapshot takes continuous backup of a share.  When the hacker encrypts a share, the user can simply to go to the snapshot and "roll back" and recover the data
MORE IMPORTANTLY, the snapshot is saved in a separate Share and the share is NOT writable. NOT even the admin can write to it. YOU CAN NOT ENCRYPT WHAT YOU CAN NOT WRITE.
5 levels of data protection
Flex-RAID, including RAID 50 and RAID 60 for enhanced performance and fault tolerance
Built-in anti-virus
Incremental backup copies with unlimited snapshots
Bit-rot protection against media degradation
Easy-to-setup replication and backup services to public cloud or a second ReadyNAS for disaster recovery
Virtualized storage for the office
ReadyNAS is also VMWare vSphere ESXi 6.0 certified for high-performance virtualized storage with workload-heavy VM support. Build your own Private Cloud for data compliance and privacy which might not be compatible with public cloud solutions.
Model – Netgear ReadyNAS RR230400, Processor – Intel Celeron Dual Core 2.0 GHz Processor, RAM – 2GB, Bays Qty – 4 BAY, Drive Type – SATA/SSD 2.5 Inch or 3.5 Inch, eSATA Port – No, Max Capacity – 40TB, Lan Port – 2 x Gigabit Lan, Dimension – 308 x 430 x 44 (Without rackmount brackets), 308 x 485 x 44mm (With rackmount brackets), USB – 3 x USB 3.0, Feature – ReadyNAS, a comprehensive storage and backup solution Protected, Intuitive remote management & monitoring, Cloud backup (Amazon, Google Drive, Dropbox, OneDrive, Azure), Choice of storage capacity & hardware (from 2 to 60 bays, desktop or rackmount), Team collaboration with anywhere secure access, High-performance large file storage & streaming, Business continuity with all-inclusive backup, Others – Weight: 4.19kg, Fan: 3 x 40mm, Power Supply: Internal 180W: input 100-240V AC, 50/60Hz, Gigabit LAN Ports: 2, Maximum Capacity: 48TB, Number of Users: 1 – 40, Warranty – 5 years
SPECIFICATIONS
Basic Information
Processor
Intel Celeron Dual Core 2.0 GHz Processor
Memory
2GB RAM
Hard Disk
SATA/SSD 2.5″ or 3.5″
Additional Features
Lan/Nic
Gigabit LAN Ports: 2
Power Supply
Internal 180W: input 100-240V AC, 50/60Hz
Drive Bays
Drive Bays: 4
Maximum Capacity: 48TB
Form Factor
rack mountable
I/O Slots
Three (3) USB 3.0 ports
Others
Cloud-discovery, Setup, and Management: Yes
Data Protection with Unlimited Snapshots: Yes
Web-managed Replication for Disaster Recovery: Yes
Real-time Antivirus: Yes
iSCSI and Thin Provisioning: Yes
Single DLNA Server for Local and Remote Streaming: Yes
Fan (mm): 3 x 40mm
Manufacture Warranty
Warranty
05 year