Netgear WAC505 AC1200 Mbps DUAL BAND PoE Access Point with 3dBi & 4dBi INTERNAL ANTENNA#SS5165C
Let's check the overview
Netgear WAC505 AC1200
Data Transfer Rates (Mbps) – 1200Mbps (300 + 867)
Frequency – 2.4GHz and 5GHz
About This Product
Netgear WAC505 AC1200 Mbps DUAL BAND PoE Access Point
Features:
Easy setup and centralized, remote management with NETGEAR Insight
High speed, density and coverage – 2×2 Dual Band 802.11ac Wave 2
Maximize performance – Multi-gigabit WiFi throughput (up to 1.2 Gbps) with Gigabit Ethernet port
802.3af Power over Ethernet – Simplify deployment and flexibility
Business Class Security – WPA, WPA2, and rogue AP detection.
PRODUCT SPECIAL FEATURES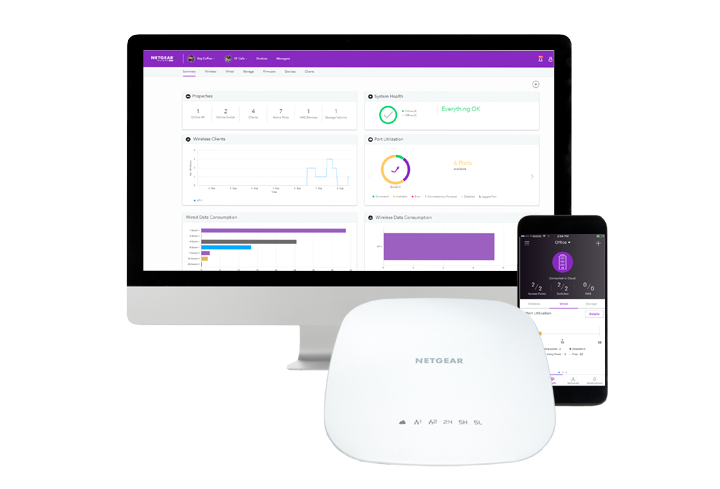 Remote monitoring and management with NETGEAR Insight
1-Year Insight subscription included
Instant discovery & set-up
Local and Cloud monitoring and management through the Insight app or Cloud Portal
Remote access and multi-device configuration
No additional Cloud controller, appliance, network manager, or PC/server is necessary
QR code intial configuaration for instant installation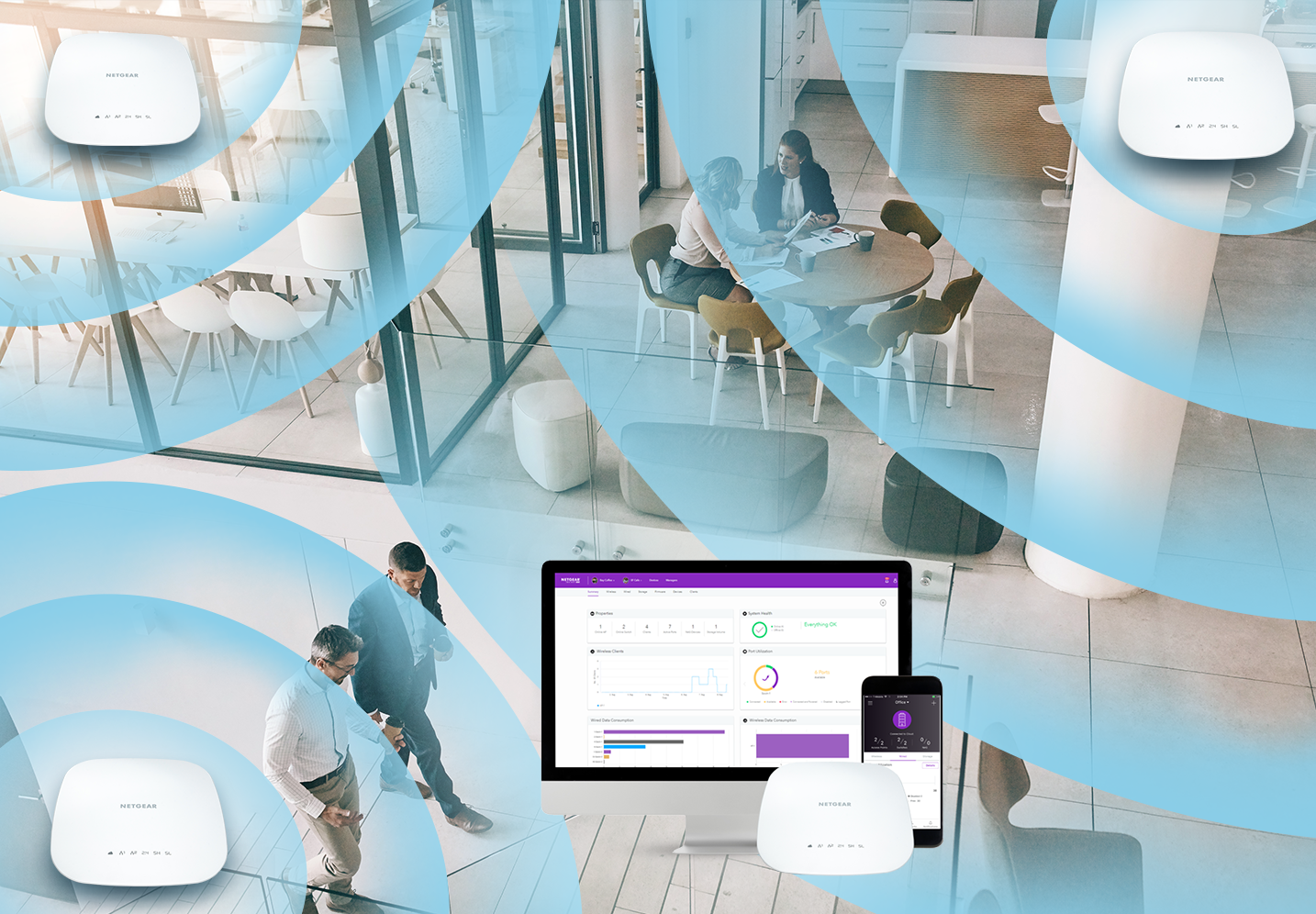 INSTANT WIFI
Optimize your WiFi. Instant WiFi analyzes the environment and negotiates the best power and channels automatically. Get the best WiFi coverage and minimal interference.
Configuration is simple.
Click "Optimize Now" in the NETGEAR Insight app or Cloud Portal
Manual configuration available for expert users
Automatic configuration is available across all 3 radios (2.4GHz, low 5GHz, High 5GHz)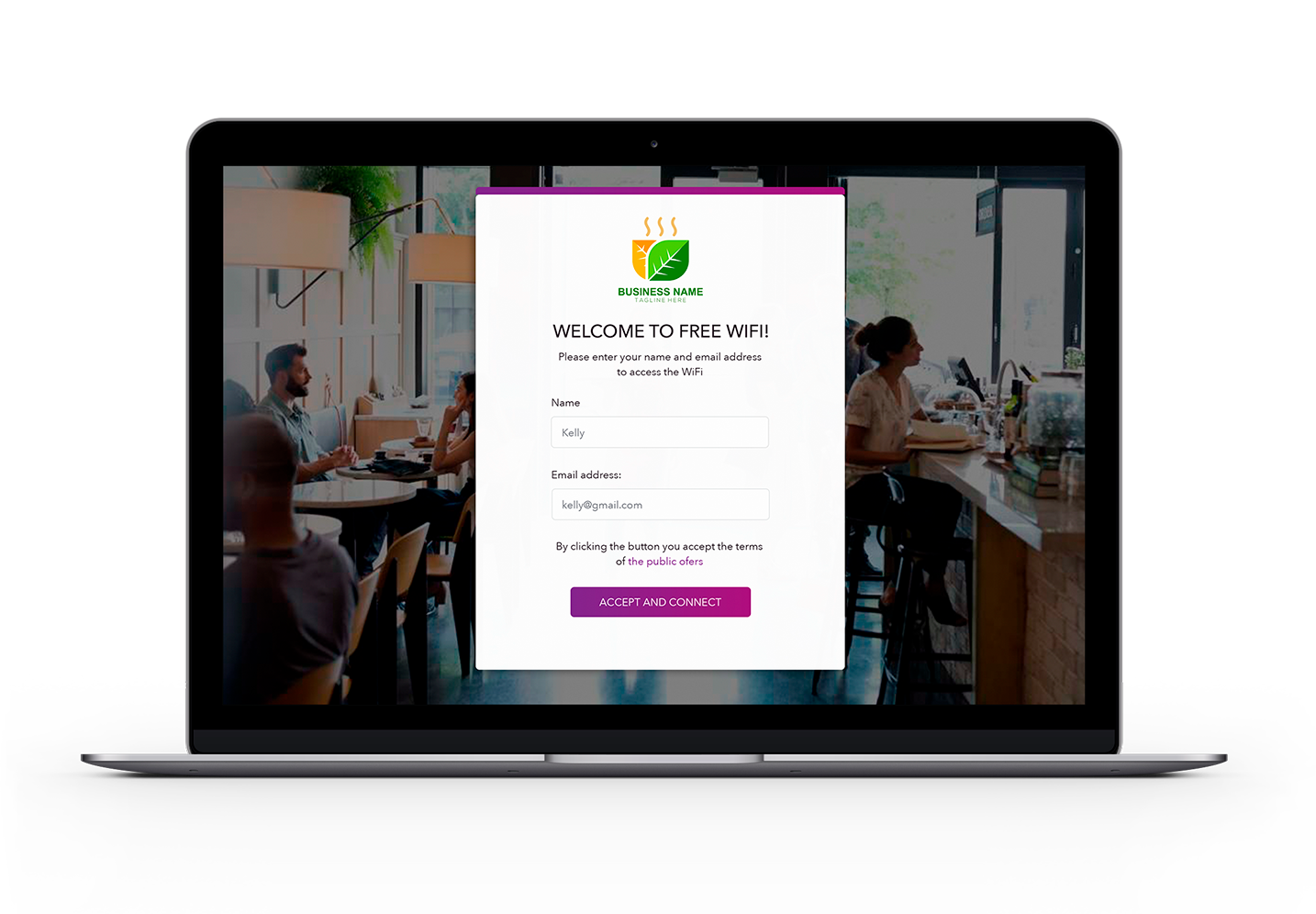 INSTANT CAPTIVE PORTAL
NETGEAR Instant Captive Portal gives the business owner the ability to set up a professional captive portal within minutes, with the features and capabilities similar to that of a major franchise.
Brand – Netgear, Model – Netgear WAC505 AC1200, Network Standards – IEEE 802.11b, g, a, ac, Data Transfer Rates (Mbps) – 1200Mbps (300 + 867), Security Protocols – WPA-PSK, WPA2-PSK, Frequency – 2.4GHz and 5GHz, Interface – 1 x 10/100/1000 BASE-T Gigabit Ethernet (RJ-45), Antenna Type & Qty – 3dBi & 4dBi INTERNAL ANTENNA, LED Indicators – 5 (Power, Link/ACT, LAN, 2.4GHz, 5GHz), Max. Power Consumption – 8.9 W, Passive PoE Power Supply – IEEE 802.3af, Management MAC Access Control – Yes, Dimension – 175 x 165 x 35 mm, Weight (gm) – 256 gm, Others – Frequency Band: 2.4GHz and 5GHz concurrent operation, Maximum Number of Clients: 200, Advanced Wireless: WDS Point-to-point wireless bridge mode, WDS Point-to-multipoint wireless bridge mode, MAC ACL: Yes, Simultaneous Bridge/Client Association: Yes, Power adapter (not included): 12V DC, 2.5A, Power consumption: 9.3W, Mounting: Desktop standable, Ceiling and wall mountable (mount included), Physical Interfaces: One 10/100/1000BASE-T Gigabit Ethernet (RJ-45) ports with Auto Uplink (Auto MDI-X) supporting IEEE 802.3af or 802.3at Power over Ethernet (PoE), Five (5) LED: Power, Link/ACT, LAN, 2.4GHz, 5GHz, MTBF: 25degree C > 978,210 Hours, Specialty – DUAL BAND PoE Access Point with 3dBi & 4dBi INTERNAL ANTENNA, One-touch wireless connectivity & management with NETGEAR Insight app, Includes Guest Facebook WiFi check-in, Superior performance with 802.11ac Wave 2, Flexible deployment with Power over Ethernet and accessories, Insight Managed Smart Cloud Wireless Access Point, One-touch network visibility Anywhere, Local and Cloud monitoring and management, Remote access and multi-device configuration, No additional Cloud controller, appliance, network manager, or PC/server is necessary, QR code initial configuration for instant installation, Dual band concurrent operation between 2.4GHz and 5GHz frequency ranges, Maximum performance with multi-gigabit throughput (up to 1.2 Gbps), Multi-User MIMO enable concurrent wireless transmit and receive with multiple clients, Improves coverage for multiple users in dense environment, Ceiling and wall mount for ease of placement, Warranty – Lifetime
SPECIFICATIONS
Key Features
Data Rate
300 Mbps (2.4Ghz)
867 Mbps (5GHz)
Up to 1.2 Gbps
Frequency
2.4GHz and 5GHz
Wireless
IEE 802.3af or 802.3at
Interface
One (1) 10/100/1000BASE-T Gigabit Ethernet (RJ-45) ports with Auto Uplink™ (Auto MDI-X) with IEEE 802.3af or 802.3at Power over Ethernet (PoE) support
Power adapter (not included): 12V DC, 2.5A; the plug is localized to country of sale
One (1) console port with RJ45 Interface
Two (2) reverse SMA antenna connectors for dual-band 2.4 and 5GHz external antennas (not included)
Five (5) LED: Power, Link/ACT, LAN, 2.4GHz, 5GHz
Network Standard
IEEE 802.11ac Wave 1 standard
WMM Wireless Multimedia Prioritization
WDS Wireless Distribution System
Power over Ethernet (PoE) IEEE 802.3af/802.3at
Encryption
WiFi Protected Access (WPA, WPA2)
MAC Address authentication
WPA2 Enterprise supported (802.1x)
Others
Multi-User MIMO: Yes
SNMP: v1, v2c
Deployment options:
Standalone
NETGEAR Insight management solution
MAC ACL: Yes
Link Layer Discovery Protocol: Yes
Physical Dimension
Color
White
Manufacturer warranty
Warranty
5 Years