Tenda TEF1226P 26 Port (24-Port 10/100Mbps + 2 Gigabit Web Smart PoE Switch + 2x1000Base-X SFP Combo Port)#SS5231C
Let's check the overview
Model – Tenda TEF1226P
Type – Gigabit Smart PoE Switch
Port – 26 Port
About This Product
Tenda TEF1226P 26 Port Switch
TEF1226P-24-410W    /    Switch    /    24FE+2GE/1SFP Smart Switch With 24-Port PoE
TEF1226P-24-410W is a smart PoE switch independently designed by Tenda. Featured with 24 IEEE 802.3at/af-compliant RJ45 ports, it supplies a maximum PoE power output of 370 W. The switch can supply power when transmitting data with APs, IP cameras, and IP phones through CAT5 cables . Featured smart management functions, including 250 m long distance power supply, 802.1Q VLAN, link aggregation, QoS and MAC address binding, it minimizes the difficulty and cost in networking deployment.
TEF1226P-24-410W 24FE+2GE/1SFP Smart Switch with 24-PoE
Dedicated for Surveillance & SMB Networking
6KV lightning protection, GE&SFP uplink ports, Smart PoE Supply, Smart Web management, 410W Power Supply

Due to smart web management, engineering is so simple
Tenda Gigabit smart PoE switch TEF1226P-24-410W, with intelligent web network management functions, provides a more intuitive and user-friendly interface.It supports 250 meters long distance power supply, QVLAN, link aggregation, QoS, MAC address binding, etc., which greatly reduces construction difficulty and saves time, maximizing cost savings for engineerings.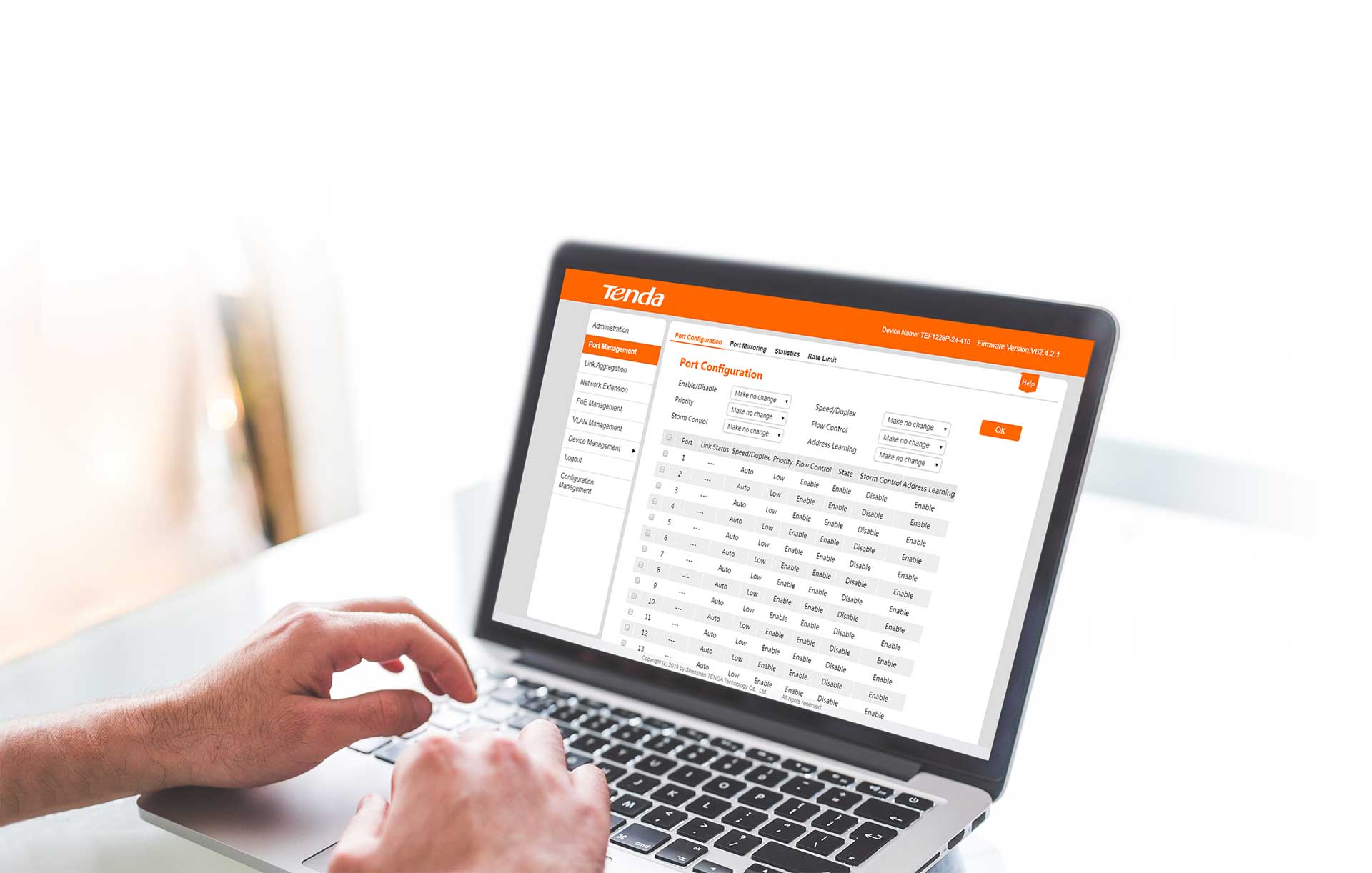 GE & SFP Uplink Ports, Large Buffer Of 4M
With one 1000 Mbps combo SFP slot, the switch can meet the current demand for uplink bandwidth of Gigabit WLAN and HD digital surveillance. Working with Tenda optical fiber module TEG311SM, the switch supports a maximum transmission distance up to 20km.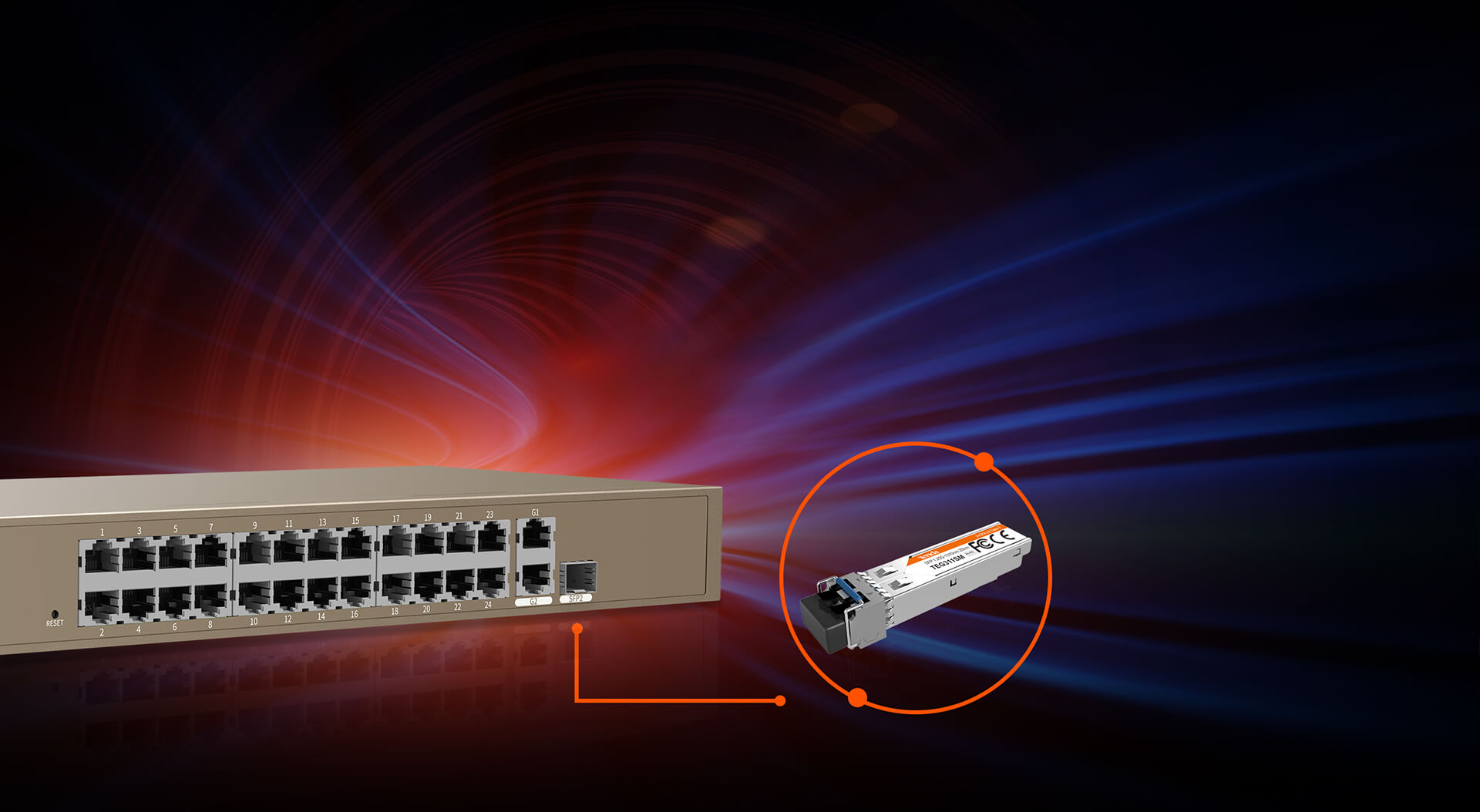 6KV Excellent Lightning Protection
The switch offers various safety and protection types, including 6 kV lightning protection, PSE short-circuit protection, PoE overload protection, surge current protection etc., and these greatly protect the switch from being damaged by thunderstorm. Besides, it supports wide voltage input, AC: 100-240V~50/60Hz.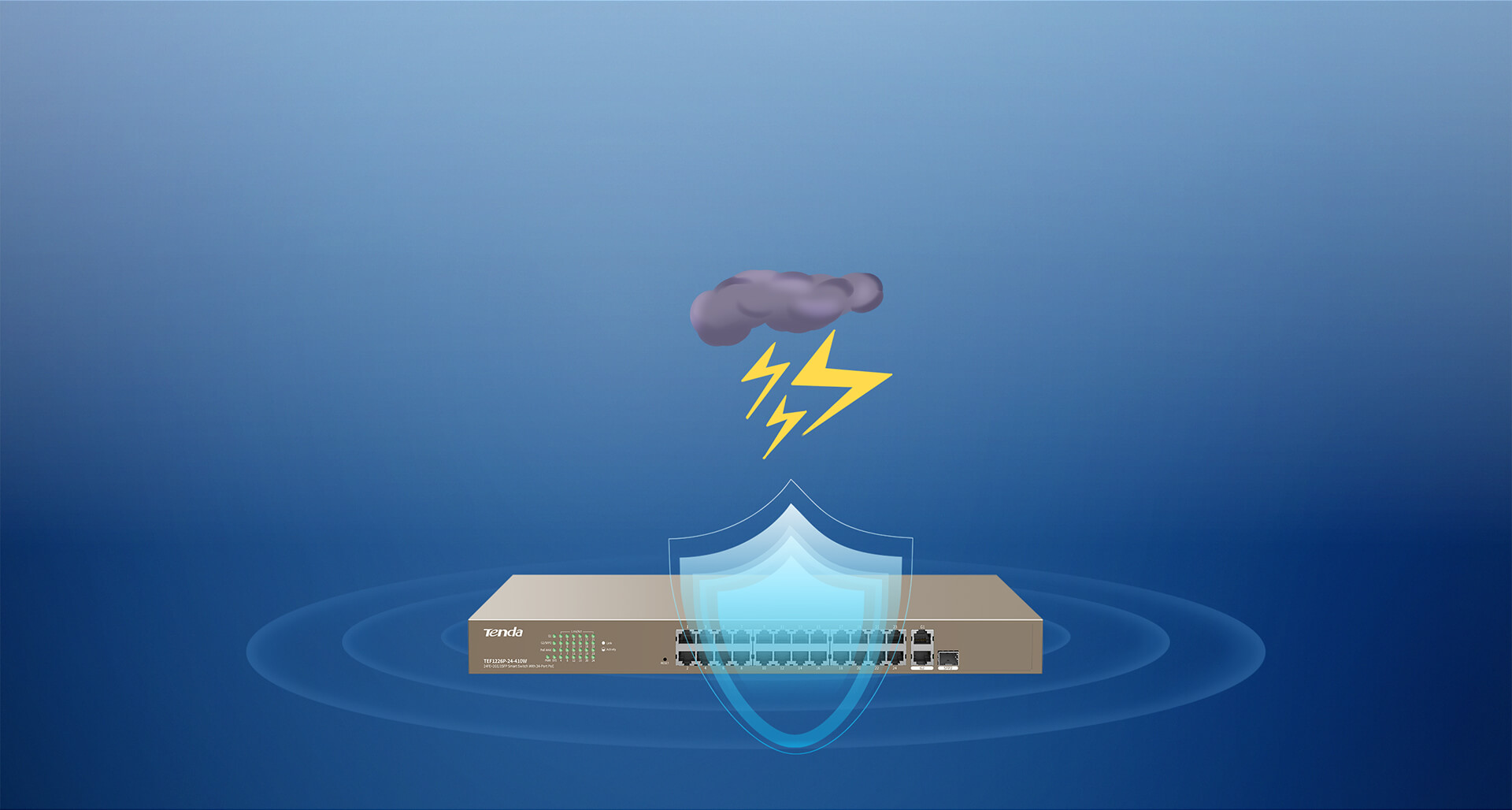 Up to 250 meters long distance transmission under the Extend Modebeyond hundred meters transfer limitation
Due to the complex monitoring environment, the distance from each terminal to the monitoring center is different, some even more than hundred meters. TEF1226P-24-410W can support 250 meters long distance transmission, which can save the cost of your project with less devices used.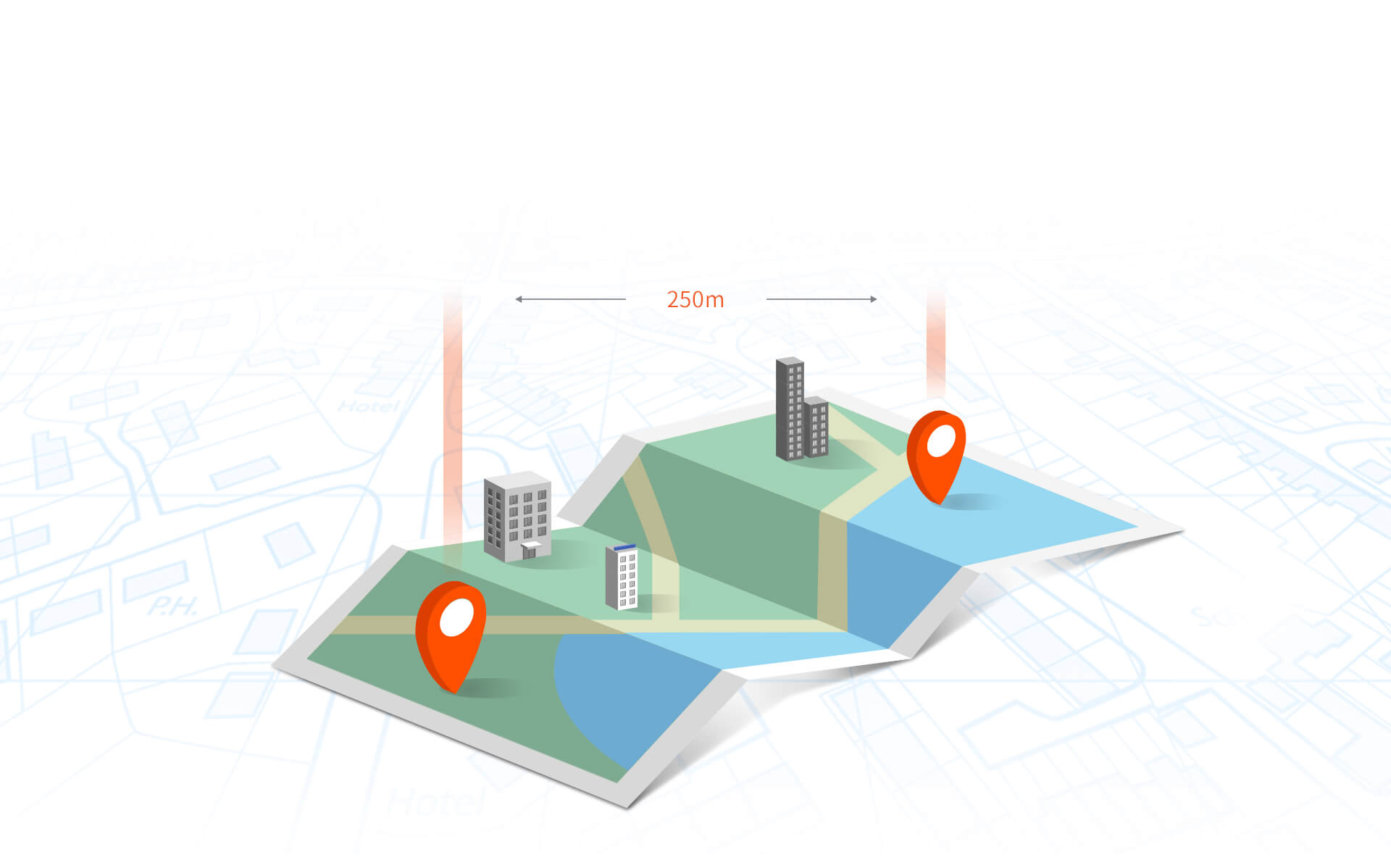 370 W PoE Power Supply
The switch features 24 RJ45 ports being compliant with IEEE 802.3af/at standard. The entire switch offers a maximum PoE power output of 370 W, and 30 W for a single port, to supply power to data transmission with 24 PoE-devices such as APs and IP cameras.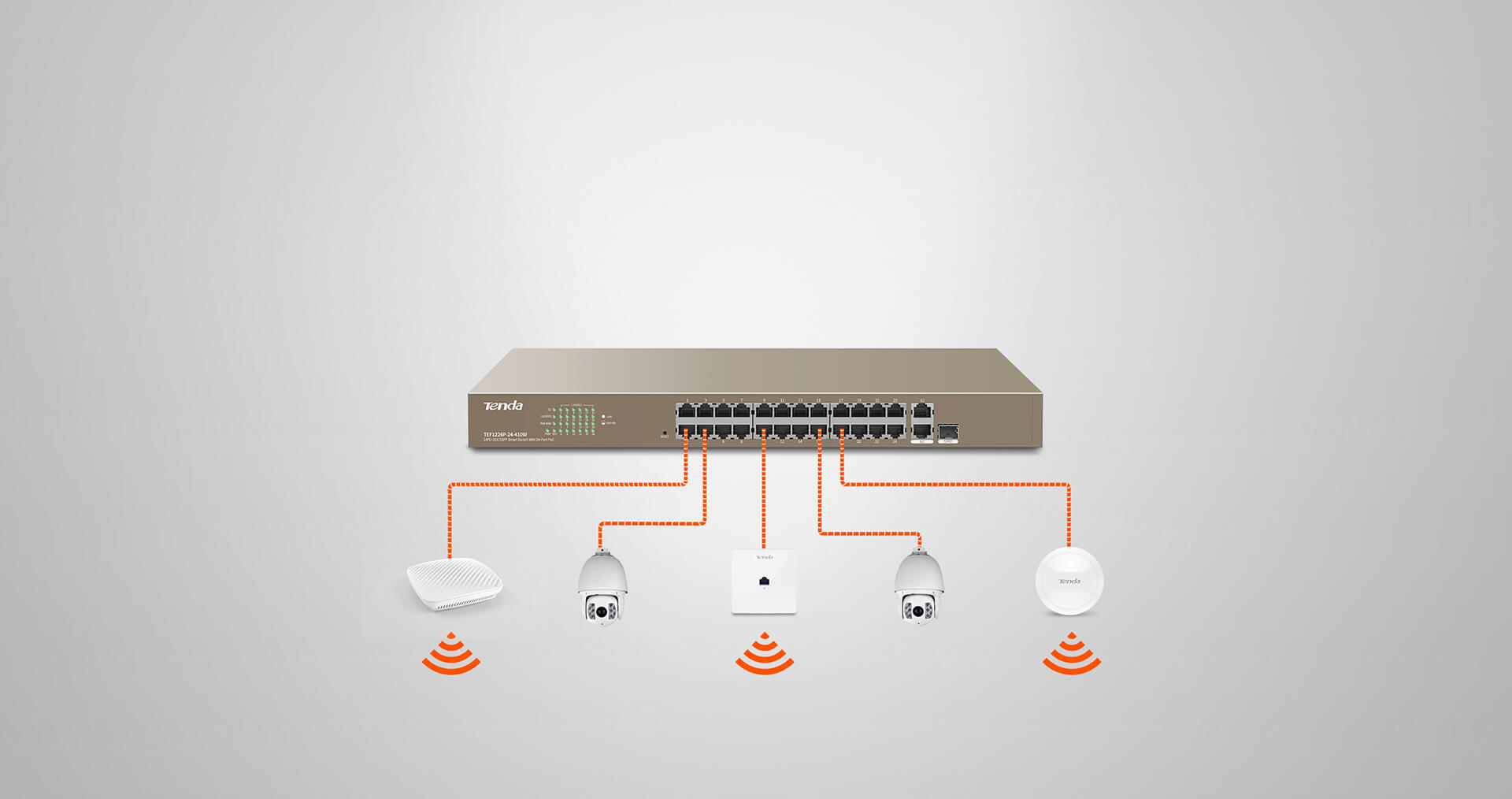 Model – Tenda TEF1226P, Type – Gigabit Smart PoE Switch, Port – 26 Port, Data Transfer Rate (Mbps) – 10/100/1000, Data Link Protocol – IEEE 802.3,3u,3z,3ab,3x,1D,1W,1Q,3af,3at, Others – Part no: TEF1226P-24-440W, MTBF: 100,000hours, LED: Link/Act, PoE Status,System, Power,PoE Max, Interface: 24 10/100Base-TX ports, 2 10/100/1000Base-T ports, 2 1000Base-X SFP ports (Combo), lightning protection: 6KV, Dimension: 440 x 284 x 44mm, Weight: 5kg, Specialty – TEF1226P-24-410W is a smart PoE switch independently designed by Tenda. Featured with 24 IEEE 802.3at/af-compliant RJ45 ports, it supplies a maximum PoE power output of 370 W. The switch can supply power when transmitting data with APs, IP cameras, and IP phones through CAT5 cables . Featured smart management functions, including 250 m long distance power supply, 802.1Q VLAN, link aggregation, QoS and MAC address binding, it minimizes the difficulty and cost in networking deployment., Warranty – 1 year
SPECIFICATIONS
HARDWARE FEATURES
Dimensions (L x W x H )
440mm x 284mm x 44mm (L×W×H)
Interface
Fixed Ports:24 10/100Base-TX ports
2 10/100/1000Base-T ports
2 1000Base-X SFP ports Combo)
lightning protection:≥6KV
LED
Link/Act, PoE Status,System, Power,PoE Max
Power Supply
Power supply module:Providing 24 ports under IEEE 802.3af(15.4W) or 24 ports under IEEE 802.3at(30W)
PoE through pin:1 2 4 5 +,3 6 7 8 –
Voltage input range:AC:100-240V~ 50/60Hz
<450W
PoE consumption up to 370W
Support setup of PoE
Support power adjustable by priority
Support over temperature protection for PoE module
Weight
≤5kg
Main Feature
Port
24 Ports
Network Standard
IEEE 802.3、 IEEE 802.3u、IEEE 802.3z、IEEE 802.3ab、IEEE 802.3x、IEEE 802.1D、IEEE 802.1W、IEEE 802.1Q、IEEE 802.3af、IEEE 802.3at
Access Method
Wired
Advanced Functions
lightning protection: ≥6KV
MTBF: 100,000hours
QoS:
Support message transmission for ports and limitation of speed
Support SP & WRR
Layer 2 ring network protocol: Support STP/RSTP and looped Network for devices
Mirroring: Support local mirror image
VLAN:
Support VLAN(4K) based on ports
Support 802.1QVLAN
Link Aggregation:
Support LACP, manual link aggregation
Support up to 6 link aggregation groups and up to 8 GE ports per group
Performance:
Store and forward:Yes
Exchange capacity:8.8 Gbit/s
MAC address entries:4K MAC
Transmission Method
Wired
Data Transmission Rate
24 x 10/100 Mbps
2 x 10/100/1000 Mbps
MAC Address Table
4K MAC
Environment
Perating temperature:0 ℃~40 ℃
Storage temperature:-40 ℃~70 ℃
Operational:10%~95%(noncondensing)
Storage:10%~95%(noncondensing)
Manufacture Warranty
Warranty
1 Year